Stijn Thoolen has been selected by the European Space Agency (ESA) to conduct research at Concordia, Antarctica from November 2019 up to and including the beginning of 2021. We occasionally receive an update from Stijn about his findings on this small, isolated part of the world. Today the fifth piece, where he tells us about his preparations for winter times on Antarctica.
Concordia, February 7, 2020
Sunlight: 24 hours (but not for long)
Windchill temperature: -45°C
Mood: a little roller coaster
At this moment I am just plain excited. Next to me the rest of the DC16 crew are having their own emotions. Our freshly inaugurated station leader Alberto, draped in the colours of our three national flags, came up with the idea to have our national anthems playing while the last Basler plane of the summer campaign leaves Dome C. So here I stand, hearing my own voice on maximum volume pronouncing a Dutch translation of too patriotic sentences from the station's speakers, and with the Dutch 'Wilhelmus' screaming over the Antarctic plateau as an official start of our winter over. Haha, such an unrealistic scenario! And while those sounds are quickly overruled by the roaring engines of the plane, and with snow blowing in our faces, I can only smile. There goes our last connection to the rest of the earth, disappearing into the distant sky. Unbelievable!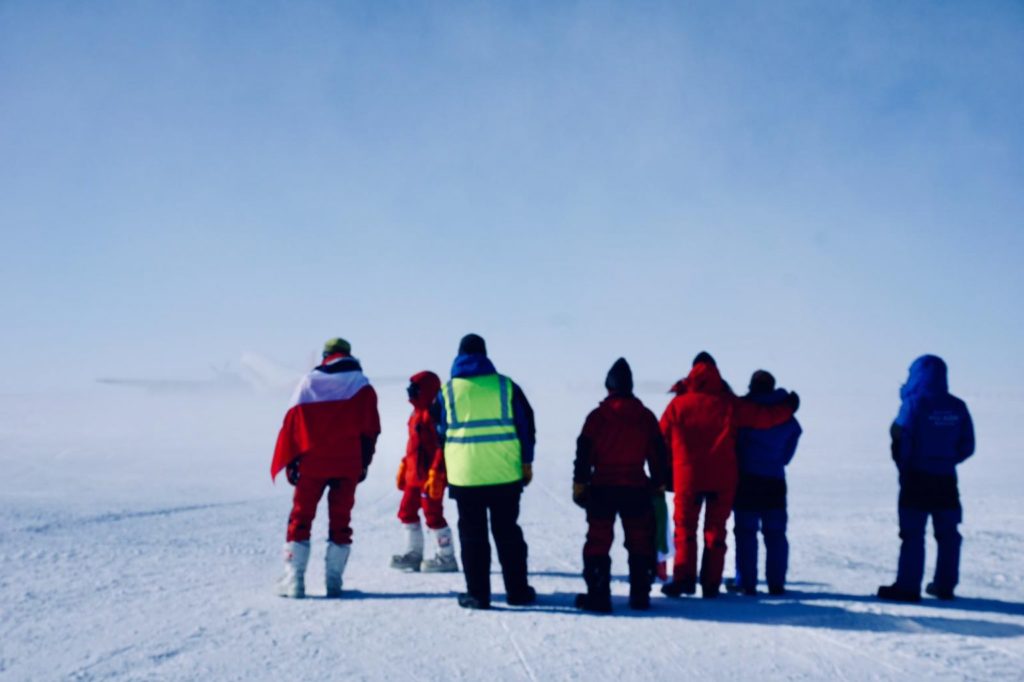 I guess I have already spilled all of my emotions at this point. Musical intermezzo: Yusuf/Cat Stevens – All kinds of Roses. In the past few days, more and more planes have been taking away more and more of the beautiful people we enjoyed our summertime with, and the station has become more and more empty. Funny: they were already leaving, and I have the idea we just started… It has been an exciting idea on the one hand, but the closer we came to being left alone, the more and more confronting that got on the other. When two days earlier another plane left with sixteen more people, the goodbyes were harsh, with everyone in tears again. You know, those healthy ones. And when it was gone, those left on the ice slowly returned back to the station, all silent, all caught in their own thoughts. It had been an intense few summer months, and this was the weird moment of realization that it had come to an end, with a big unknown lying ahead. I guess the blend of feelings has been a repetition of those during the days before my departure to the Antarctic. Perhaps a little lighter this time.
The last weeks we have tried to prepare for this moment. Unloading the last boxes of fresh food, a last guided skidoo (snowmobile) tour (to your right you see snow, to your left you also see snow) to make sure we have seen all the important locations for winter in case of emergency for example, learning how to process the waste so that it can be shipped back to France next year, a final bunch of spare parts arriving just in time, and last year's biomedical samples finally shipped back for analysis in Europe. And while we have concluded that the summer was mostly a good one, and some of the changes apparently need some time to process, we are all actually mostly looking forward to what is going to come. After all, this is what we came for!
Now with only twelve, life will be very different. Finally our own room, our own rhythm, some well-deserved rest from the busy summer, but most of all a heck of an experience waiting for us (isolation, confinement, monotony, you know how to get me excited…)! Reason enough to answer that enthusiasm with our first winter over picture on the roof, and later some mulled wine at the same spot, enjoying the beautiful sun now we still can.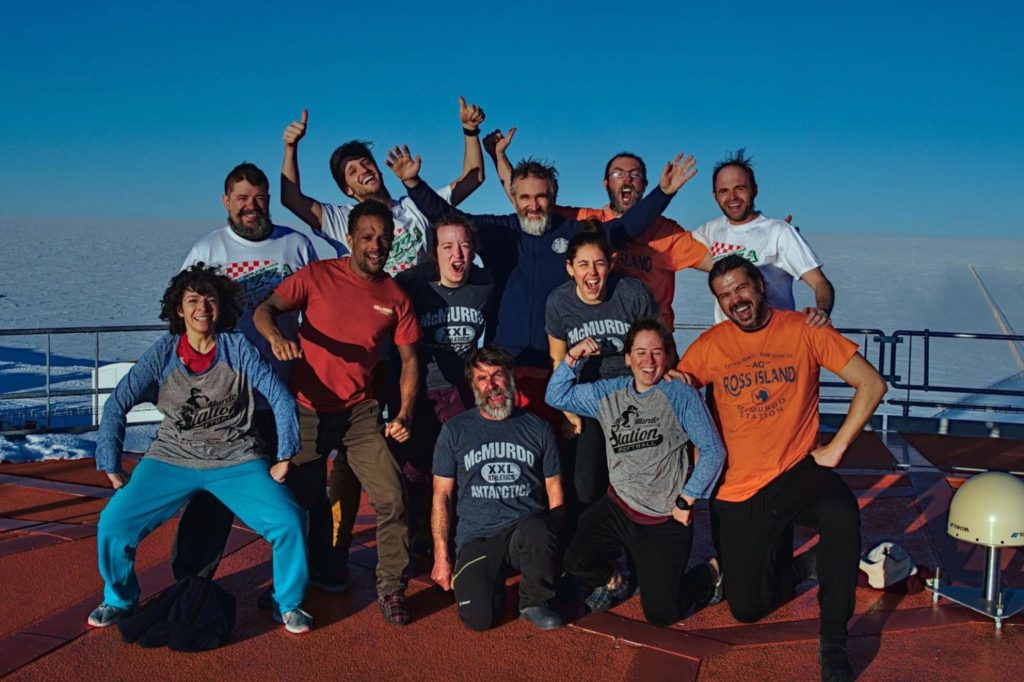 Not only the more relaxed dynamics and personal interaction within the station are a welcome change. Signs of the coming winter are everywhere. With the sun creeping towards the horizon (hard to believe, but from the first sunset we apparently lose about 25 minutes of sunlight each day!) all kinds of colors light up the sky. Light blue has become deep blue, white has become grey, and carefully the sky started showing some yellow. That yellow has been turning into orange now, mirrored by red and purple on the opposite side. It is a spectacle, and I came to think that these three-hour sunsets may be even more special than the three-month darkness awaiting us…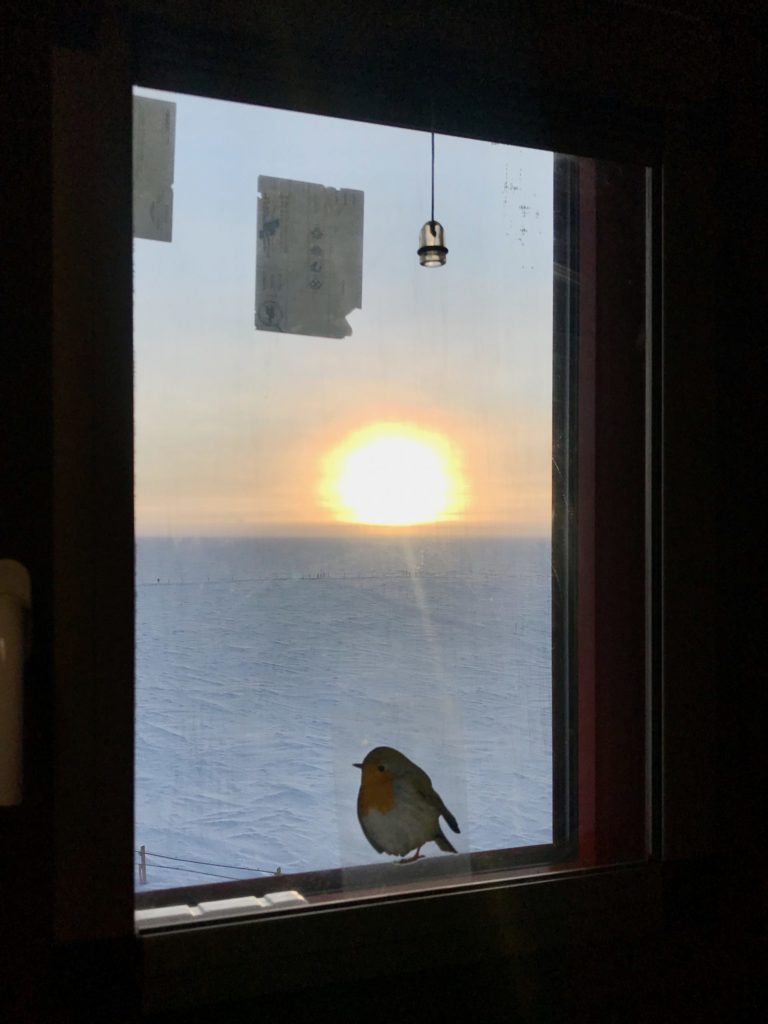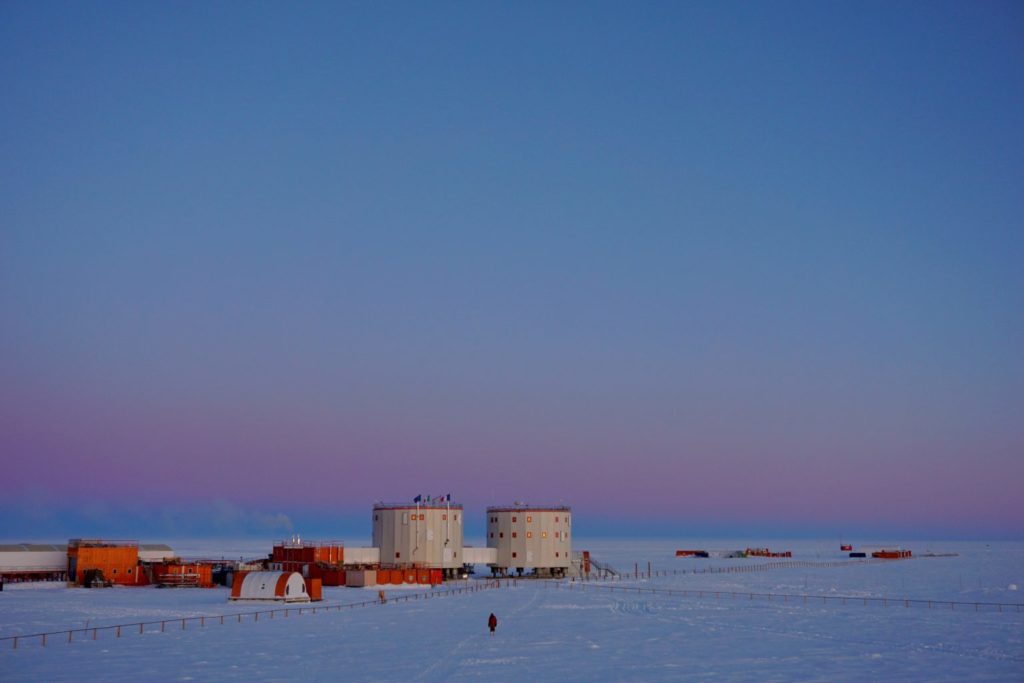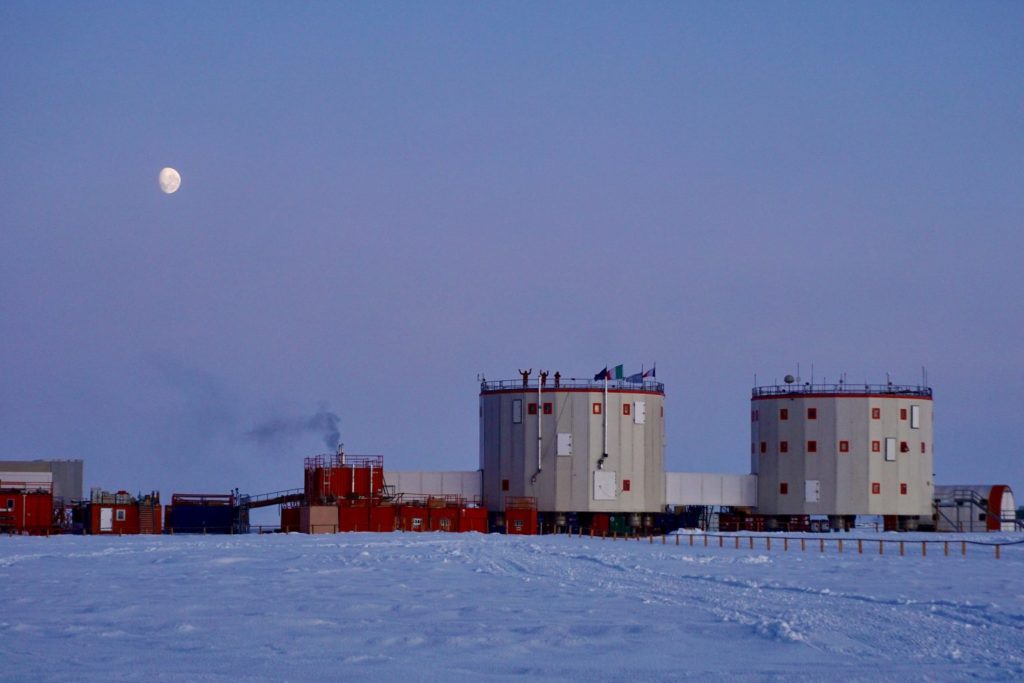 Indeed, we better enjoy these changes now we can. Waving at that last plane on that February 7, all of us truly seemed to be left alone, and not just physically. So, after some awkward looks at each other, just like when we first met as a crew during our training in Europe ('so, it is you who I am spending the next nine months with…'), we decided that there was only one real solution. And there we stood, while the plane disappeared slowly into that distant sky, dancing, on Britney Spear's Toxic. Incredible that even such songs can become of value…