Stijn Thoolen has been selected by the European Space Agency (ESA) to research Concordia, Antarctica from November 2019 up to and including the beginning of 2021. We occasionally receive an update from Stijn about his findings on this small, isolated part of the world. In this blog, the ninth piece, all about the ending of the winter and its effects on the entire crew at Concordia station.
Concordia, October 4, 2020
Sunlight: about 14 hours per day
Windchill temperature: -85 °C
Mood: excited, but there is a pinch of nostalgia. Already…
It's 1:00 AM. I am lying outside on the roof, together with Ines (glaciologist), Elisa (cook) and Andrea (vehicle mechanic). There is a full moon shining on us, and Mars is right next to it. I am not much of an astronomer, but its bright color stands out so clearly from all the other celestial objects that even I can recognize it instantly as the Red Planet. Looking to the southwest I see Jupiter and Saturn. Also pretty hard to miss. Usually that is where I find the Milky Way, but there is too much light now, even at this hour. An amber color brightens the horizon, beyond which I now realize again there are just so many miles of ice (something easily taken for granted here, but thinking back to that inbound flight to Concordia last year does the trick) separating us from the rest of the world. In front of it all, I look at the frosty metal bars, which always looked so surrealistic to me when I saw pictures of them back home. They have gone through winter as well…
How will it be to go back home? With only one more month before the first plane arrives, I can't help myself trying to picture how things will look when we return to 'Earth'. And I have to admit: sometimes I look forward to a change. Not-so-constructive or even aggressive discussions, distance-creating demotivating remarks from others, and at times a lack of respect, understanding and team spirit: it is obvious that the winter has left its marks in our crew. At those moments I just wish to be among the people that are close to me again. My girlfriend, my family, my friends, who all seem to understand me down to a much deeper level. In a way the approaching summer is exciting.
The return of the sun was cool. 'Here comes the sun' (you know, that one from the Beatles) was heard all over the station while we impatiently and excitedly tried to catch a first glimpse of it mid-August. Since that moment the skies have become more and more blue, and the snow more and more bright. I have experienced the gradual return of daylight over the past weeks with a positive and fresh feeling, and a sense of anticipation has started to take hold of the station. Who are the people who will replace us? What are our plans after Concordia? I remember myself some weeks ago, lying in exactly the same position as I am right now, outside against a snow dune, sheltered from the wind and with a pleasant -50 degrees Celsius (I realize this perception must be taken relatively…), alone, and just letting the sunshine touch my face again. A special moment, that reminded me of how pleasant summer conditions are going to be.
But funny enough now, here on that roof, I actually recognize myself trying to enjoy the last bits of darkness instead. Winter is over, and the light at the horizon is making sure I realize it. It makes me think of those unbelievable starry skies that I will probably never see again. Clear, twinkling, full of 'falling stars', here and there a satellite passing by, and dominated by the humbling Milky Way and it's two neighboring Magellanic Clouds, which are actually other galaxies we gazed at with our naked eye! Being outside at night has been an impressive experience, every time again. I remember the pictures I tried to make some time ago, outside on my slippers, with pain in my toes and barely feeling my hands, but all overruled by the excitement to capture all those incredible stars and some vague aurora dancing around it. I am probably going to miss the night sooner than I sometimes like to think…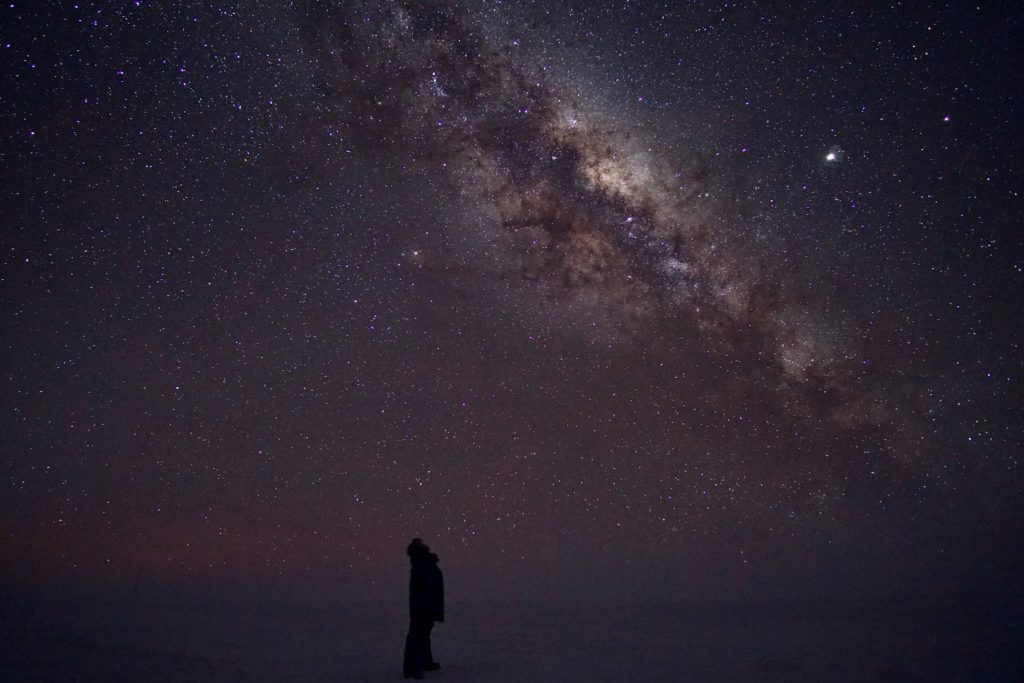 As a crew we have made wonderful memories as well. This evening for example I think we all felt that. We organized an ESA quiz some hours ago, revealing some particular results from the human research we have been doing here ('Who lost the most weight?', 'How much DC16-poop will be sent back to Europe?', 'What is the most recurring motive on food pictures: pasta, pies, or middle fingers?', you get the idea…), and reminding ourselves of some good moments we had this past year. Not just happy birthdays or rather inspiring Saturday night dance moves on ridiculous music in the living room disco, but much more sharing an extraordinary experience that only a handful of people will ever be able to grasp in its entirety, and perhaps most of all (and probably as a result of the latter) an endless amount of inside jokes. So different in nature, but unified through our experience.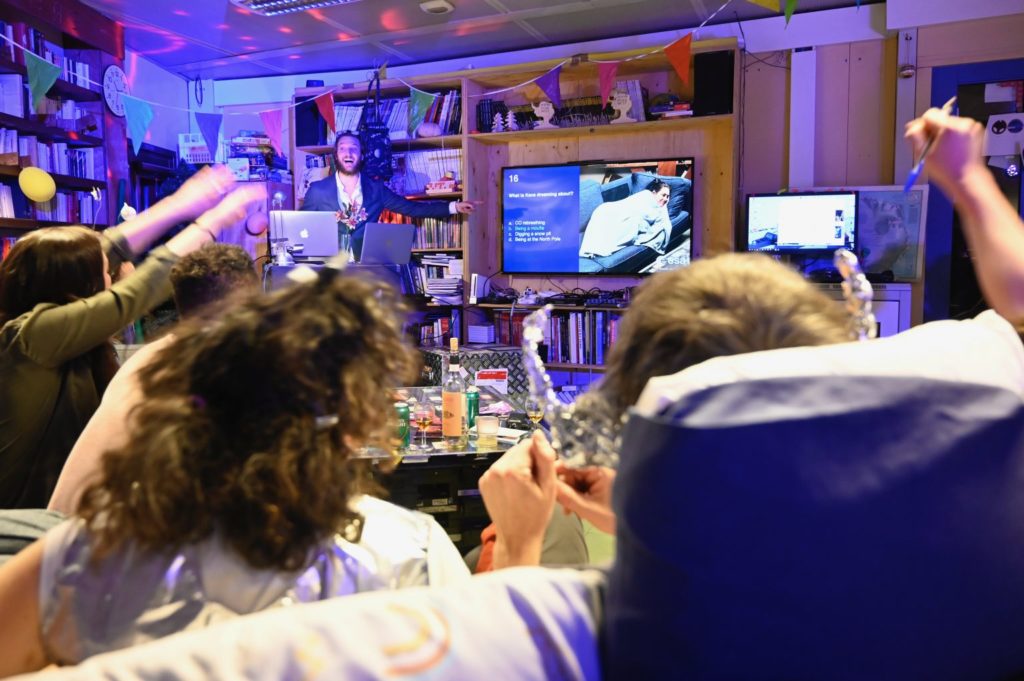 Lying here, thinking about all these special moments and happy memories, I feel inspired and incredibly lucky to witness all this. An incredible place to teach us about the world we live in, and a beautiful moment of realization to which I decide to hold on as much as I can under the rising pressure of the upcoming summer. I wish I could share it with the people at home…
How will it be to go back home? Maybe not that easy after all. The experiences we undergo here are intense, and it may actually be a challenge to make others at home understand what we have gone through, and make them feel the way we have felt. I will miss the night. I will miss our shared experiences. Left alone with those strong memories once we reintegrate into our old lives, Concordia may be hard to let go of. Perhaps Concordia now may become the place where we feel better understood, and I guess it is for this reason that many eventually make the decision to go back. Our Italian station leader appropriately calls it 'mal d'Antartide'. Having been here four times now, he understands as no other this strong feeling of nostalgia for Antarctica.
When we go back home we will find ourselves in the richness and beauty of our old lives on one hand, but always carrying Concordia in the other. Torn apart between two worlds, each with its own treasures, and the combination of which is only understood by you…