A week of learning about infectious diseases of the tropics and providing first aid in the outdoors in beautiful Suriname. Who wouldn't want that?
The trip offer had been haunting my mind for a while, but I also had doubts. Spending the night in a hammock, trekking through the jungle, flying in the time of flight shame, having no cell phone coverage for my kids at home: could I do this? And what would I gain from this education in my daily work as a general practitioner?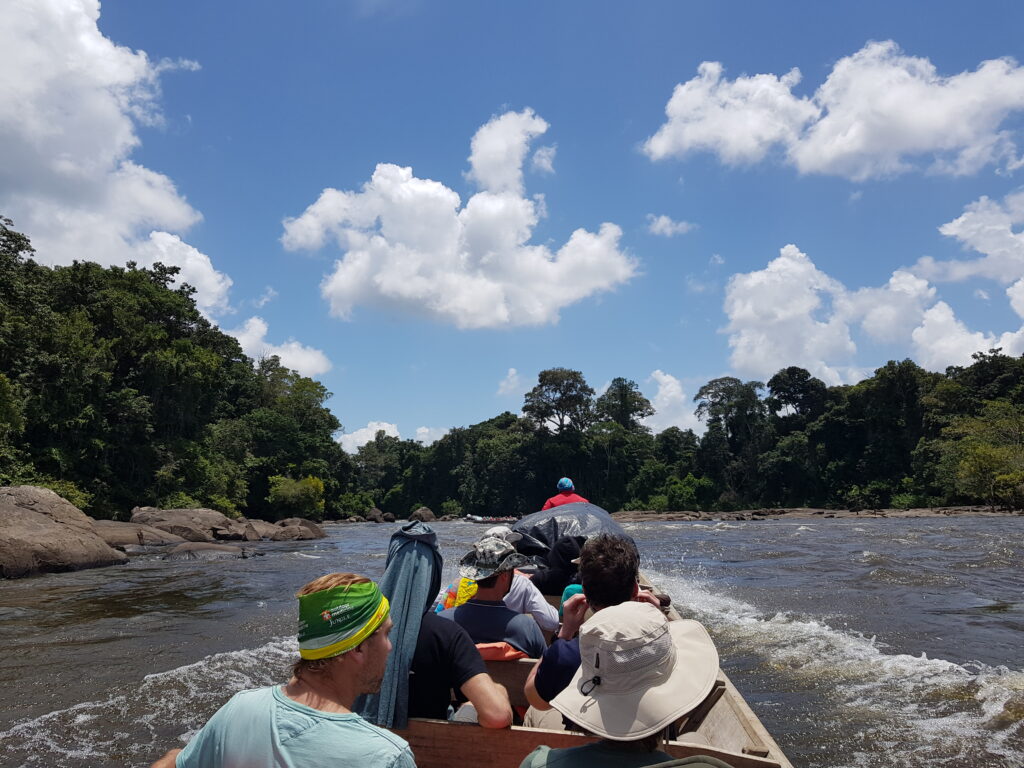 Decisive for me was that the training was also accredited by LCR, which would be useful to keep my registration as a travel medicine GP. With 20 other participants, 5 instructors and the Surinamese guides, we started in Paramaribo with a pleasant drink. The next day the journey began by bus and then by boat to Kumalu Dream Island, a resort on the Suriname River where we stayed for two nights.
Here we had a large number of lectures: on infectious diseases, traveler's diarrhea, dangerous animals in the jungle, and the structure of approaching a patient in outdoor setting. The lectures were interspersed with practical rounds such as learning to splint, putting together your medication kit, navigating, and moving a patient.
After two days, we traveled further by boat into the depths of the jungle. The trip was unforgettable: at rapids, we had to push the boat up the river and get all the gear out of the boat. We paid a visit to the captain of one of the last villages before entering a truly uninhabited area. This courtesy visit is also part of a ritual: after such a visit, the inhabitants come to your aid, should you be in need.
On the island of Sintiadam, we made our camp. We installed our hammocks among the trees and were instructed to always be careful where you step: after all, there could always be a snake! This also became evident when our guide got hold of a poisonous lancehead snake near my hammock….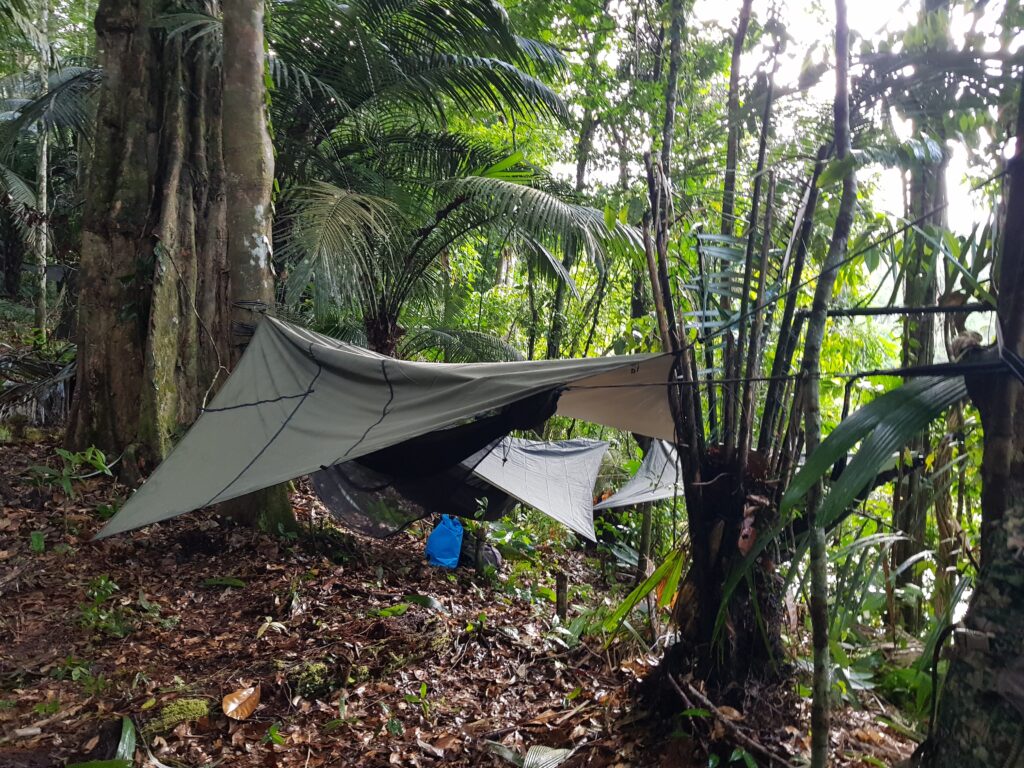 We did a lot of scenario training on Sintiadam. Here we practiced the technique of approaching a patient according to the MARCH method. From the instructors you got immediate feedback on your actions, which was very pleasant. Together with the guides we trekked through the jungle and they told us a lot about the trees and plants they use as medication. They also showed us how they treat myiasis (larva that is under the skin) when one of them suffered from it. Extraordinary to see how well you have to know this environment, to be able to live and survive there. At the campfire, we listened to an impressive story from the guide about his two-week survival trip through the jungle to rescue four German tourists.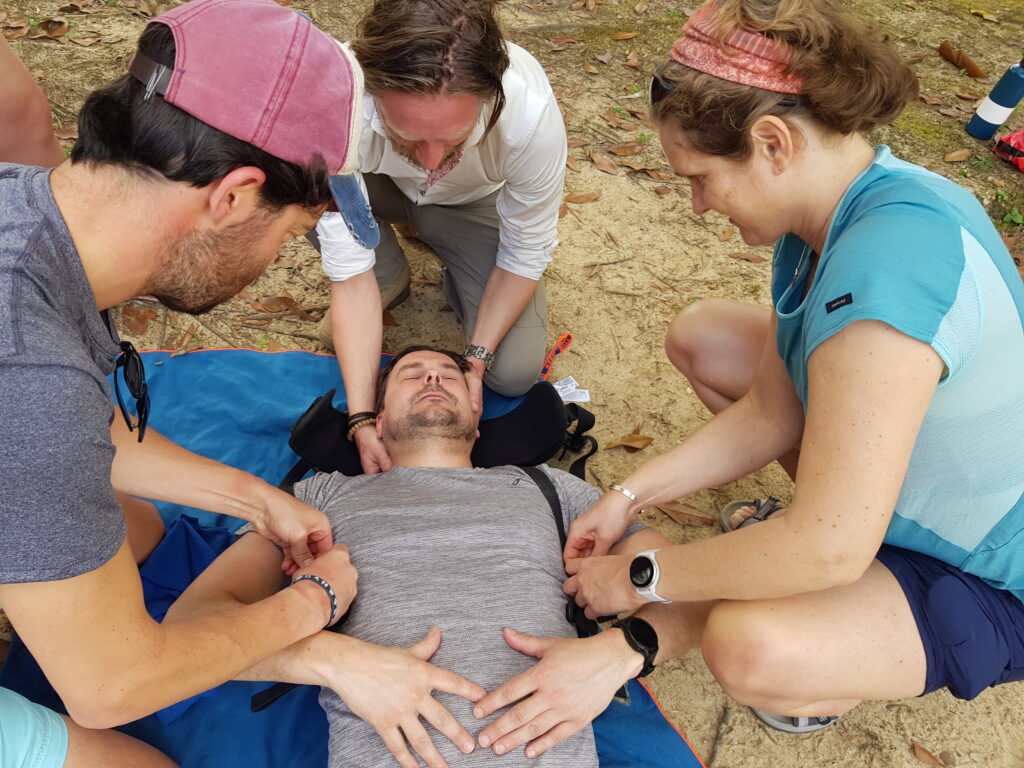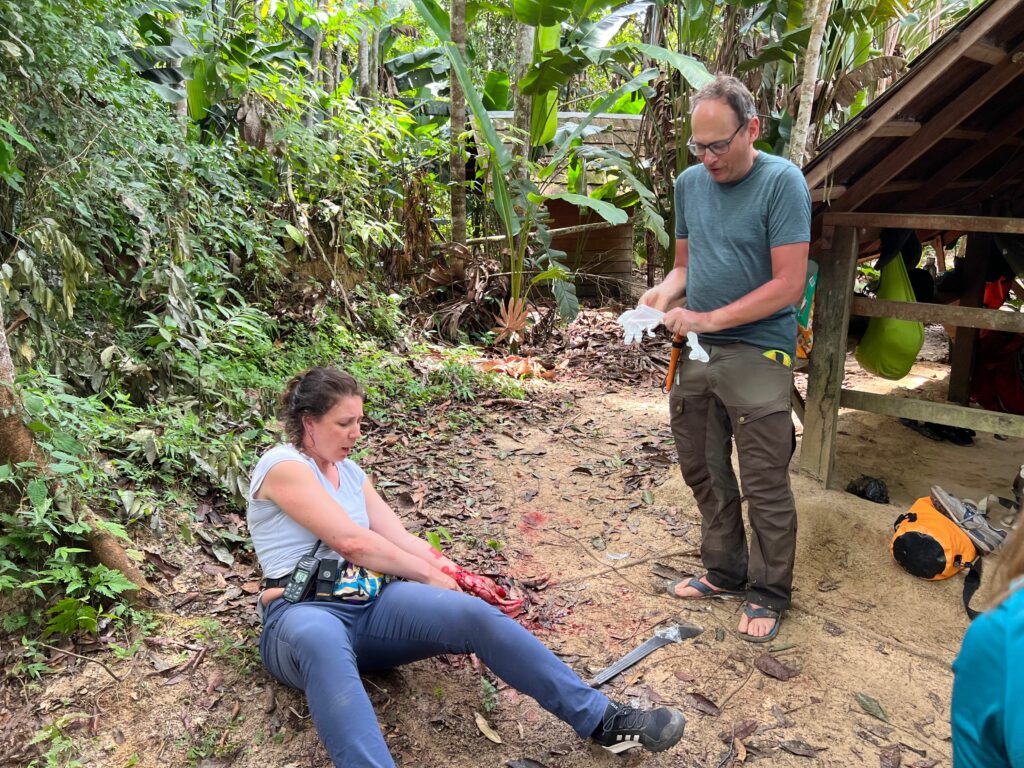 Our group was very diverse: in addition to tropical medicine physicians, there were residents, emergency medicine physicians, internists, a dentist, general practitioners, an anesthesiologist, a psychiatrist, a youth health care physician and even a clinical geriatrician.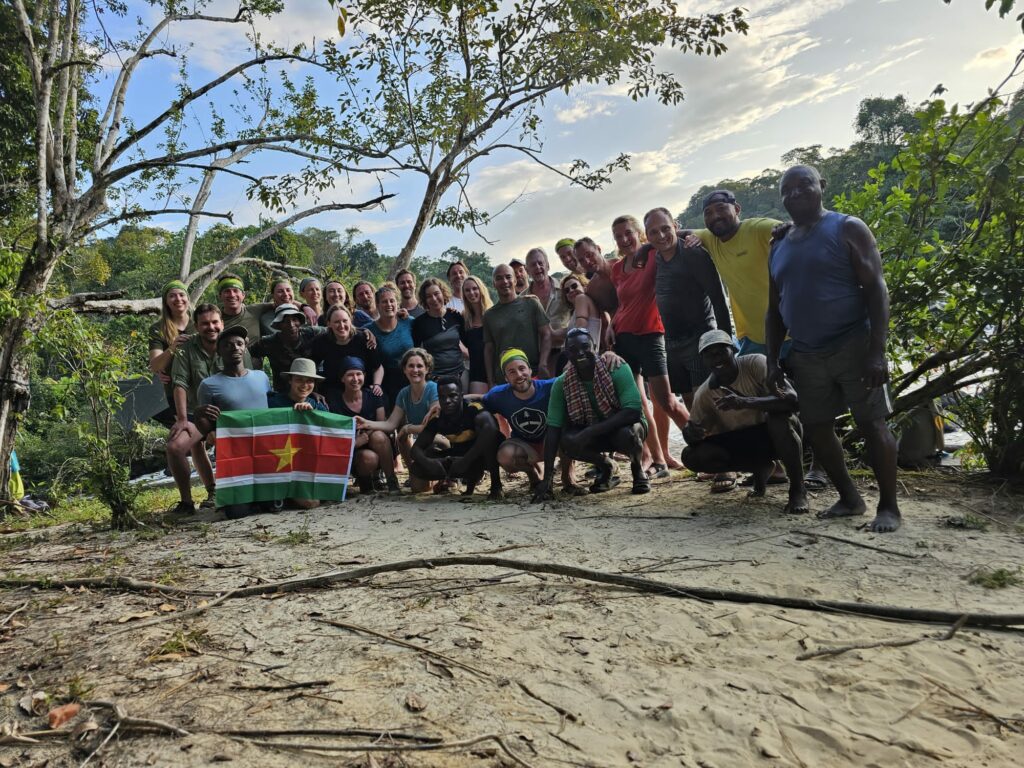 This brought a lot of input and also in the free time there was a lot of exchange about the different fields of work. The dentist himself gave another lecture on acute dental care and there was even a dental scenario to practice.
I thought it was a very special trip and a superb medical education as well. And yes, I even benefit from it in my daily practice as a general practitioner. Acute patients also occur in general practice, and it is good to regularly train a structured approach.
Author: Lotte Kleijer