Benoît Massereel took part in the Kilimanjaro expedition course at the beginning of 2020, read all about his experience here!
If you're curious as to how the tropics and high altitude can impact someone, you have to go to the Kilimanjaro, the rooftop of Africa (with a staggering 5898 m!). Add the insane number of visitors to the mix, and you're guaranteed a spectacle. That must have been what the three musketeers of Outdoor Medicine (Joost ten Brinke, Michiel van Veelen and Remco Berendsen) were thinking. In essence, the first medical expedition course came to life, led by Barbara van der Meer from Mountain Network, supported by local guides, porters and cooks from the African Walking Society (a small army consisting of more than 60 women and men).
I first heard about this when I was attending an AWLS (Advanced Wilderness Life Support) course in April 2019, organized by the same Outdoor Medicine. At that time, I had plans to go to the Cordillera Blanca in June 2019, and I recognized that it was essential to be prepared in this particular medical field. Not only for me but for my climbing partner and even other climbers who might cross our path. As soon as your climbing partners know that you're a '(para)medic', they expect a lot of you. In that case, it's best to know your stuff, have the basic gear and some extra energy to get your buddy to the valley safely. Moreover, it is our duty to help those in need. It's not in our nature to turn our backs on people and pretend to not have seen or heard a thing. Even if that implies difficulties, dangers and/or medico-legal problems of our own.
Up until now, oddly enough, my 'climbing scene' has consisted mostly of engineers. Now it would solely consist of doctors: a strange experience on its own. The first encounter with my brothers in arms was in Soest on November 3rd, 2020. Apart from the theoretical lectures on altitude sickness, infectious diseases, medico-legal aspects, expedition planning and mental health on an expedition, this was the ideal opportunity to go through your personal expedition materials and the planning of the tour.
The extensive training manual in our mailbox made it very clear that we should not underestimate the approaching journey. Arnaud liked to sleep in the altitude tent to acclimate, but we kept it simple by taking prophylactic Diamox on site.
On Saturday, February 1st, 2020, the expedition was officially launched in the stunning Kigongoni lodge in Arusha with sixteen enthusiastic fellow physicians and our extraordinary leader Barbara. On Sunday, our patience was put to the test one last time when we got theoretical lectures on patient assessment, altitude sickness, hypo- and hyperthermia, evacuation/air transport (no helicopter has been spotted on the mountain for months), infectious diseases and practical scenarios. Ideal for catching your breath after a rough week at work and a tiring flight.
We met JT, the head of our guides, and after a short bus ride, we were waiting in line by the Machame Gate on 1800 m. All of the luggage was carefully distributed and weighted. Your duffel bag, carried by your personal porter, could not exceed 15 kg! Everyone had their backpack with essentials, that we obviously carried ourselves. After five hours of walking a wide trail through the rainforest, we reached the Machame Camp (2800 m) more or less dry. We were introduced to our integral caravan of Tanzanians. First encounter with the washy-washy in the evening before dinner and at dawn at the 'doorstep' of our tent: a birdbath with a bowl of lovely warm water. Hygiene first! We also brought our own two potties, in the hope of keeping gastrointestinal diseases away. The 'tourist toilets' were disgusting and thus life-threatening. Nobody left the toilet or joined at the table without practising the strict hand hygiene. The meals were complete and varied, with fresh vegetables and fruits. Even the pick nicks were balanced.
On Tuesday we left the rainforest, and after walking for four hours, we got to the more dry and scarcely vegetated Shira plateau and camp on 3800 m altitude. The daily rounds of 'how are we feeling today?' turned into rather meagre 'ones' with respect to headache and nausea. Every evening, you would measure your own oxygen saturation and pulse. Pole pole, let your body adjust to the altitude. Time to undergo further training on water disinfection, your first aid kit and the Gamow bag (a mobile compression room).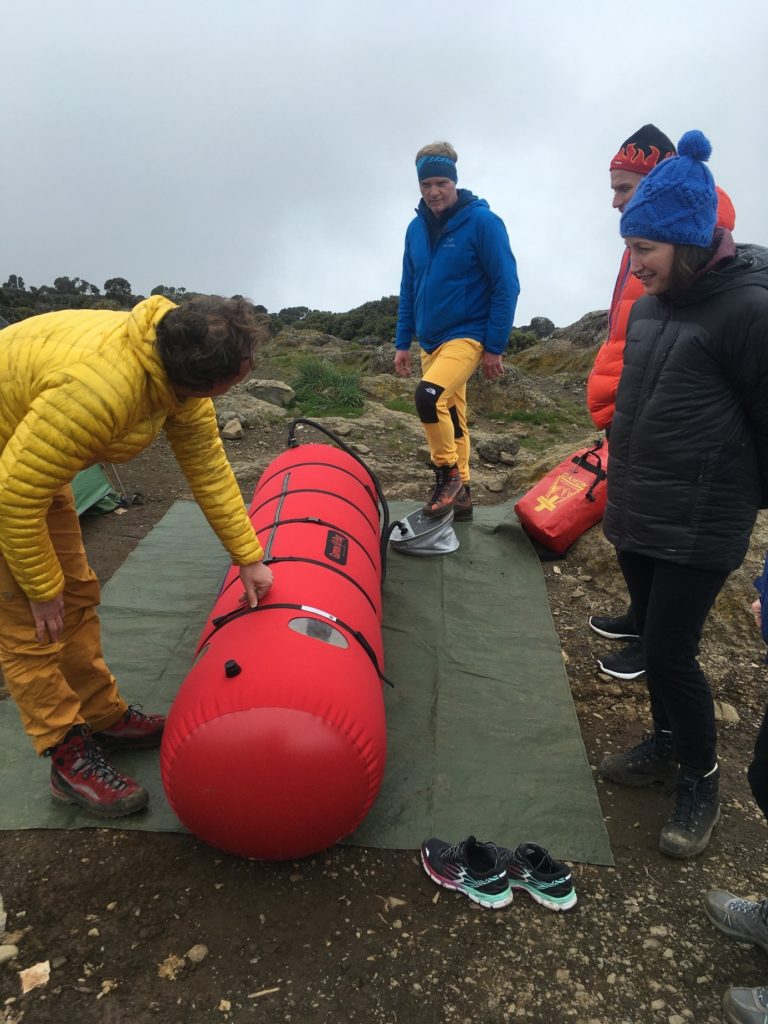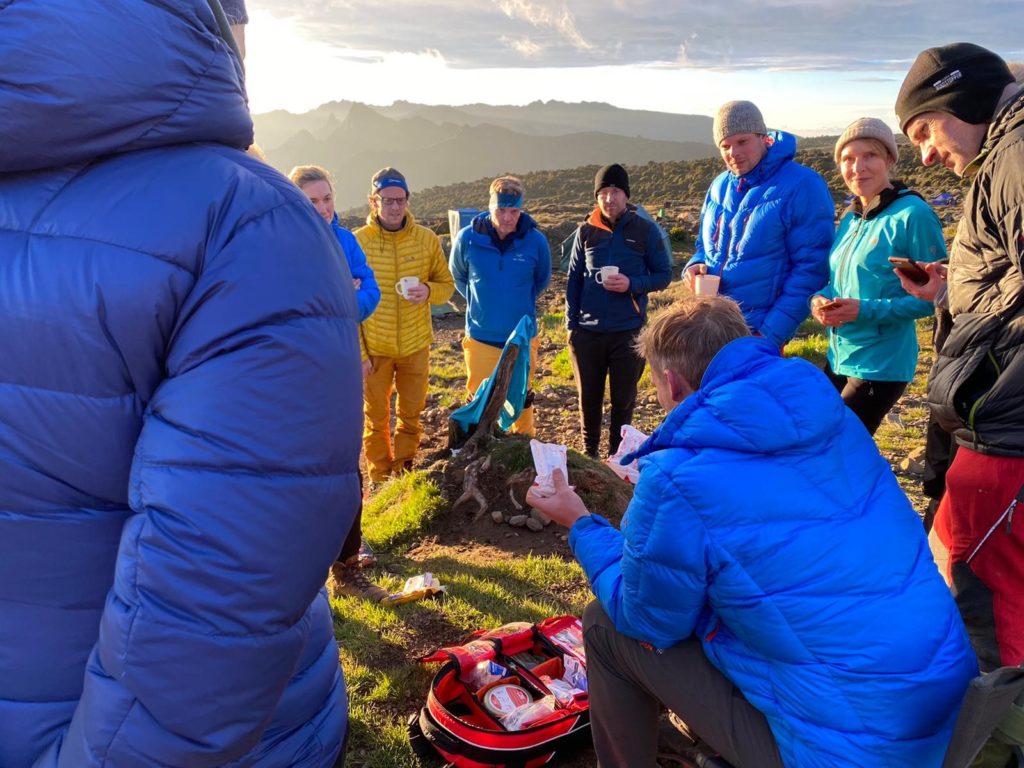 On Wednesday we rose to 4500 m to eat our lunch nearby Lava Tower. That night we slept on 3950 m in the Barranco Camp, at the foot of the eponymous wall, after a journey of seven hours. The 300 m high Barranco wall looked daunting. Apparently, one of our porters thought the same, because the next day he took a U-turn and went back to the valley. We didn't understand this fully until all hell broke loose on the Barranco wall. It was not just us that had to cross it, the small army of porters had to cross it as well, with the heavy luggage on their heads and shoulders. There were moments where we had to hold our breath, but luckily we were spared from heavy falls. No trauma course for today. Respect! We spent the night in the Karanga Camp again, 4000 m high. The body began to adapt, but some people had trouble with the nocturnal cold. Hot-water bottle, bivouac bag, thermoliner, sleeping with all clothes on. Nothing sufficed for good night sleep. Fatigue was lurking around the corner. We had to practice urinating in a bottle at night. That damned Diamox. Were your fingers tingling from the cold or the Diamox. It was a little confusing.
On Friday we reached the Barufa Camp at 4650 m. The place was insanely crowded and remarkably more filthy. Whiskey and Coca-Cola route converge at this point! Our last stop before reaching the top. Eat, rest and prepare your equipment for the Summit. Last check-up of your health conditions. The entire group was ready to go. Here and there you could hear perpetual coughing and spitting from the other tents: indications of HAPE (High Altitude Pulmonary Edema)? Shouldn't they go back down?
At midnight, the caravan started the journey to the top, with encouraging songs of our guides. Jambo Bwana… Hakuna Matata… Kilimanjaro… Every hour and a half, we stopped to drink, eat and put on extra layers. Every now and then, a stomach got emptied, and we had to give an extra word of encouragement. One guide and one teammate had a hard time and got sent back to the camp. Unfortunate… But safety first! We reached Stella Point – on 5739 m – before sunrise. The horizon was on fire! What a spectacle high above the clouds! In the burning sunlight, we reached Uhuru Peak, 5895 m high. The emotions were running high: a smile, a tear, someone even hyperventilated. There was a lot of cramming before we could take a picture on the top, and that cost us energy!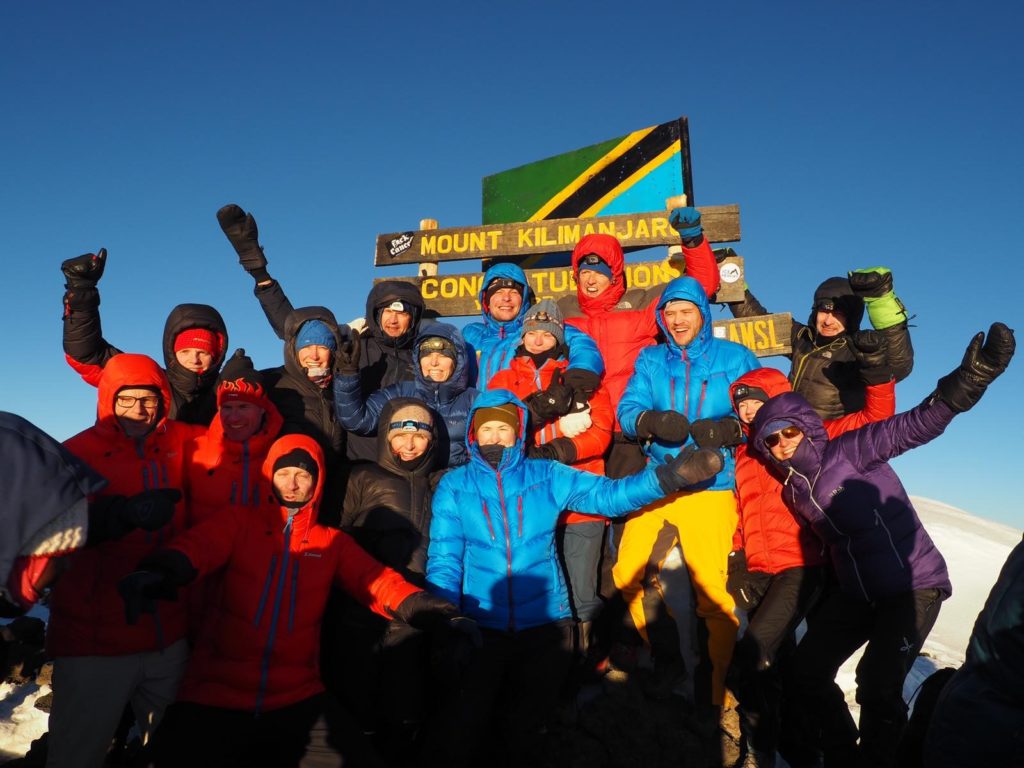 We quickly descended, it was cold, and there was a strong wind. A porter collapsed just under the top and had to be brought back down in full speed. What we saw next defied all imagination. Climbers were making a final attempt to the top, supported by their guide. A lot of climbers were unable to ascend the mountain on their own. A mix of AMS (Acute Mountain Sickness) and exhaustion, it seemed. I felt bad for them. I personally felt fine, although I hadn't been able to eat any bar for the last few hours. It had gotten scorching hot by now. We descended in the blazing sun. Hypothermia made way for hyperthermia and dehydration. Our cordée arrived quickly and unscathed in Barufa Camp, where mama Belia had already been required to administer Dexamethasone to an Austrian who came running down the mountain looking for his little kids. And no, he didn't have a headache, he could walk just fine, but where the heck were his kids?! And could Belia please leave him alone?
We recovered for a little while on our sleeping mats, and then we continued descending to Millenium Camp on 3800 m, which indeed felt like Spanish camping. Finally, we had access to as much water as we needed for a delightful washi-washi. We still had to pay attention to our daily hygiene for now! So far, there had been no ill in the patrol, thanks to the strict rules.
After the official farewell to the porters, cooks and guides with reciprocal words of thanks, speeches and gifts, we descended one last time, to Mweka Gate on 1980 m. We finally spotted little monkeys in the rain forest, but we had to focus on the slippery, muddy path. One last scenario caught us off guard: a member of our team got bitten by a venomous snake. What now? The DO's and DON'Ts! We also got to practice with the fancy stretchers (they had one wheel – with suspension!) that were laying around: not very comfy.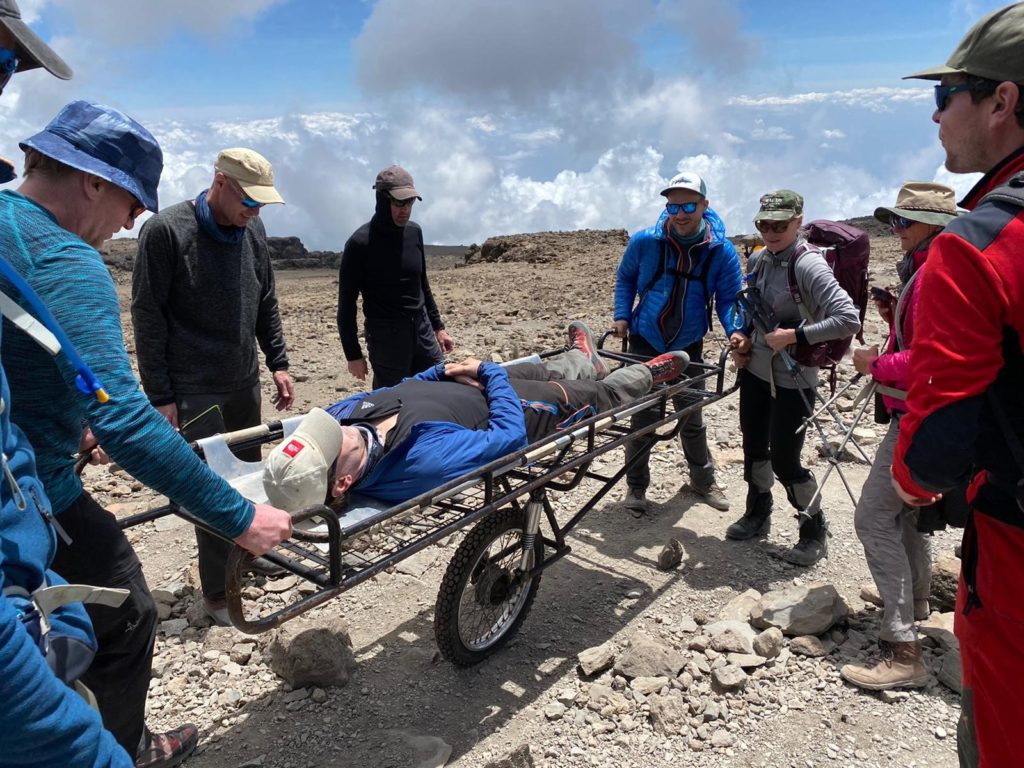 That night, we celebrated our successful journey in Kigongoni lodge. We were extremely satisfied by the course and kept reminiscing on the experience with a Kilimanjaro beer or gin tonic. Someone thought it would be useful to calculate that it takes you 23 litres of gin and tonic to reach malaria prophylaxis… That led to some tireless party animals having a 'Petzl Disco'. But they, too, were up at 9 for the morning yoga with Barbara; an excellent ending for the somewhat stiff muscles and a head filled with impressions.
The next edition will take place in 2020. Elbrus and the Rwenzoris are on the bucket list! I can only recommend these and other courses for all colleagues with a heart for outdoor! Head in the clouds and both feet firmly on the ground!